Home | De Rada at UNICAL Home |
Course Descriptions
De Rada Program at
Università della Calabria
June 2-30 & July 1-28, 2015
(Workshop: July 3-12, 2015)
For High School and College Students
& for Middle and High School Teachers
Studia l'Italiano e Scopri la Cultura del Mediterraneo
Study Italian and Discover Mediterranean Culture
Program Fees
Professional Development Workshop for teachers (July 3-12, 2015)
$1700 (with breakfast and dinner) $1750 (with lunch and dinner)
The cost of the workshop includes 35 contact hours, orientation, single room with private bath+AC, dinners and lunch or breakfast at Università della Calabria, one welcome dinner and one farewell dinner, 2 excursions to the beach, a guided tour of Cosenza with dinner, Lamezia Terme Airport pick up and return service.
Teachers participating in the workshop who will organize a small group of students for one of our summer sections, will receive a discount and will pay only $1000 (option A) or $1050 (option B).
Courses for students and adult learners (June 2-30 & July 1-28)
$3700 (shared room) $4100 (single room)
Group airfare and teacher/chaperone offers available upon request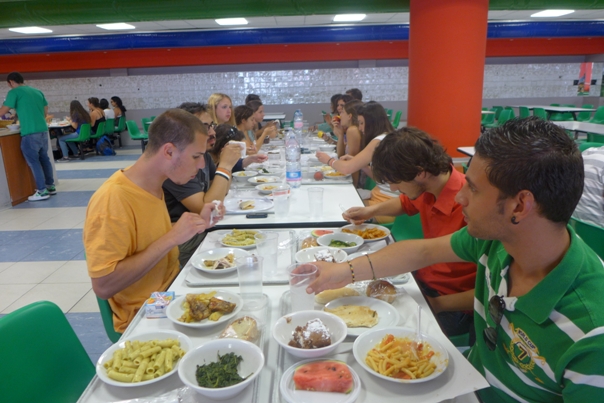 Studenents eating at UNICAL dining service
The students and adult learners fee includes:
| | |
| --- | --- |
| Tuition | Tuition for 2 courses for an equivalent of 6 credits (for a total of 90 contact hours) |
| | |
| --- | --- |
| Room, bed linens and cleaning | Room in shared apartment dorms with private kitchenette at UNICAL campus. Bed linens: Each shared apartment will be provided with bed linens. Initial and final cleaning are included in the program fee |
Lunch and dinner at one of the UNICAL dining hall services.

Breakfast and Dinner are included during most of the excursions
| | |
| --- | --- |
| Transportation | Pick up & return service from/to Fiumicino Airport in Rome |
| | |
| --- | --- |
| Field trip/Excursion 1 | Visit of the Amalfi Coast: Amalfi, Vietri, Sorrento |
| | |
| --- | --- |
| Field trip/Excursion 2 | Weekend in Calabria to discover the Magna Grecia civilization of the Jonian coast with visit of Sibari, Albidona, Amendolara, Roseto and Trebisacce. Two nights at agriturismo, with room and board included |
| | |
| --- | --- |
| Field trip/Excursion 3 | Visit of Reggio Calabria and the Museum Archeologico with its Bronzi di Riace. On the way back stop in Tropea or Riace beach |
| | |
| --- | --- |
| Field trip/Excursion 4 | Visit of the ancient ruins of Pompei and Frascati |
| | |
| --- | --- |
| Field trip/Excursion 5 | Visit of Rome and the Vatican |
| Cultural excursions | guided visits to archeological sites, monuments, churches, etc. |
| Registration | student registration will take place on the first business day after their arrival |
| Orientation | an orientation is scheduled after students' arrival; orientation includes explanation of the program and its courses and a guided tour of UNICAL campus |
| Daily schedule | a copy of the schedule will be given to students each week; the schedule will be presented by the program coordinator and discussed among students. Please note that the program may be subject to change, upon students' and/or director's request or unexpected contingences |
| Classes | classes are usually scheduled from Monday to Friday, plus some laboratory and seminars hours in the weekend, for a total of 45h for each course |
| Real-life situation speaking labs | students will be able to practice Italian language in real-life environments with the students, faculty and staff from Unical. Plus they will have direct contacts lab work with people working in local edicola (newspaper stand), albergo (hotel), ristorante (restaurant), libreria (bookstore), panetteria (bakery), pasticceria (pastry shop-cafe`), etc. |
| Language practicum | individual language practicum is offered upon student request and availability |
| Libraries | use of UNICAL libraries, one of which, BAU, is considered the largest university library in Southern Italy |
| Welcome refreshment | a welcome refreshment is usually offered in the first week to welcome all students |
| Graduation party | a graduation dinner party is offered toward the end of each section |
| Diploma and transcript | a diploma of participation will be given to students at the end of the program. An official transcript will be sent to all students |
| Health care | UNICAL health care will cover students for primary care assistance and emergency room care |
| Cultural activities | conferences, lectures and seminars are given by highly qualified scholars, poets, artists and writers |
| | |
| --- | --- |
| International field experiences and internship opportunities | different international field experiences and internship opportunities are available upon student request and availability |
| | |
| --- | --- |
| Computer and Wireless Internet Service | Computer labs and wireless internet service available |
| Unical facilities summary | use of the University of Calabria facilities: libraries, museum, theater, computer labs, language labs, |
| Sport facilities | use of gyms, soccer field, five-a-side soccer, tennis, volleyball, basketball courts, etc. |
Other features not covered by the program fee:
1) Airfare and passport fee: All students and faculty are responsible for their own airfare to and from Italy.

2) Books and course package material: The list of books for each course will be sent to students enrolled in the program together with their pre-departure material.

3) Health care: Please note that the UNICAL public health care will cover students for primary care assistance and emergency room care. In case of a more serious medical emergency, transportation to the hospital will be provided by UNICAL. Once at the hospital, students may be asked to pay a fee for further treatment. For this reason, we recommend that they have their own travel insurance card.

4) Additional course fee: A payment of $450 is required for any additional course of 3 credits. All courses may be audited for free.

5) Telephone Correspondence: In order to telephone the United States and other places inside (locally) and outside (internationally) of Italy, the following are also available to students:

A) Phone slips/cards (scheda telefonica); they come in 5 and 10 Euro denominations, 2 hours and 4 hours respectively. From the local telephones students can make calls with a slip/card, sold locally.

B) In the United States, it is possible to purchase a quad band cellular phone, which operates all around the world.

C) In Italy, students can purchase phones, starting at 20 Euro, which use TIM or SIM cards. The cards are purchased in increments of 10 Euro, and they are placed directly into the phone. There is NO charge for incoming calls.

D) Last but not least: students can bring their laptop and use Skype in order to call their friends and family for free (if the family and friends are Skype members) or by buying Skype credit online. For more information, please visit www.skype.com.
Preferred method of payment with no additional fees: check or money order.