Program Fees and Accommodations

Home | Otranto Home | Course Descriptions
Otranto, Puglia
Studia l'Italiano e Scopri la Cultura del Mediterraneo
Study Italian and Discover Mediterranean Culture
Program Fees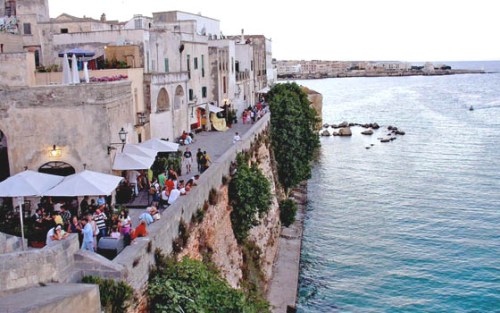 Accommodation Choices:
| | | |
| --- | --- | --- |
| Program Type | Shared Room | Single Room |
| 1-week | $1,500 | $1,800 |
| 2-week | $2,300 | $2,700 |
| 3 week | $3,100 | $3,600 |
| 4-week | $3,800 | $4,400 |
4-Week Program: A regular course usually lasts 4 weeks and gives students the possibility to receive a transcript for credit. Different arrangements may be made upon student's request.
Special 4-Week Combined Program: if you want you can also stay 2 weeks in the sea town of Otranto and 2 weeks in San Demetrio Corone, Calabria.
Preferred method of payment with no additional fees: check or money order.
For credit card payment or donation option we use PayPal Security Center. This payment method can be used only for the 4-week or the 8-week options. Please notice that if you pay with this method you will be charged an additional fee of $50 for the 4-week program, or an additional fee of $90 for the 8-week program. If you pay by check or money order there will be no additional fee.
4-week option
8-week option
The fee includes:
Room in apartments or in Hotel Meublè Il Gabbiano (arranged by director)

Hotel Meublè Il Gabbiano
Via Porto Craulo, 13
73028 - Otranto (Lecce)
Tel. 0836/801952 - Fax 0836/804870

Email:info@hotelmeublegabbiano.it
Breakfast at the hotel with open buffet

Dinner at local restaurants on the beach
| | |
| --- | --- |
| Fieldtrips to Puglia | 3 excursions in the Salento area: Lecce, Galatina, Gallipoli and the Salento coast from Otranto to Santa Maria di Leuca |
W

eekend excursion in the regions of Basilicata and Campania

One weekend trip with tour guide at the Pollino Mountain, Basilicata. Visit of Certosa di Padula and on the fantastic Grotte di Pertosa in Campania, with the life representation of Dante's Inferno. For more information check the Sample Itineraries and Labs page
| | |
| --- | --- |
| Cultural excursions | guided visits to archeological sites, monuments, churches, etc. |
| | |
| --- | --- |
| Free use of the following at the hall of the hotel | wireless internet connection for e-mails an internet. Students must bring their own laptop to have access to this service. Internet points are available, but are not covered by the program fee |
Tuition

tuition for 2 courses for an equivalent of 6 credits

Registration

student registration will take place the same day or the day after their arrival

Orientation

one day of orientation is scheduled after students' arrival; orientation includes explanation of the program and its courses and a guided tour of the town

Daily schedule

a copy of the daily schedule will be given to students each week; the schedule will be presented by the director and discussed among students and may be subject to change, upon students' and/or director's request or unexpected contingences

Classes

classes are usually scheduled from Monday to Friday and they last one to three hours each

Real-life situation speaking labs

students will be able to practice Italian language in real-life environments such as at the fruttivendolo (fruit vendor), albergo (hotel), ristorante (restaurant), panetteria (bakery), pasticceria (pastry shop-cafe`), edicola (newspaper and magazine stand), etc.

Other labs

pizzica and tamburello dance, cartapesta and fresh pasta.

For more information visit the Sample Itineraries and Labs page. Please notice that labs are selected and scheduled at the discretion of the program director

Language practicum

individual language practicum is offered upon student request and availability

Local libraries

use of local public libraries

Welcome party

a party is usually offered in the first week to welcome all students

Graduation party

a graduation dinner party is offered toward the end of each section

Diploma

a diploma of participation will be given to students at the end of the program

Transcript

an official transcript will be sent to all students in the Fall

Cultural activities

conferences, lectures and seminars are given by highly qualified scholars, poets, artists and writers

Cultural

events

possible participation in music concerts, theatrical performances, traditional festivals, poetry readings, etc.
| | |
| --- | --- |
| International field experiences and internship opportunities | different international field experiences and internship opportunities are available upon students' request and availability |

And for an additional 15 Euros:

- "Vivere il Mare": boat sea excursion with taste of local food
- Boat Fishing on the Jonian sea
Other features not covered by the program fee:
1) Airfare and passport fee: All students and faculty are responsible for their own airfare to and from Italy.

2) Traveling to and from Otranto.

3) Personal expenses and room deposit fee: A room deposit fee of 20 Euros is due on the registration day. The deposit will be returned to students and faculty at the end of the program.

4) Laundry: Laundry is not included except for the bed linens changes provided by the hotel personal. Initial and final cleaning of everything is included in the program fee.

5) Books and course package material: The list of books for each course will be sent to the students enrolled in the program together with the pre departure material.

6) CISD membership: Once in Italy each student and faculty must pay a membership fee of 20 Euros in order to use the CISD facilities, transportation, service, etc. The fee includes a membership of Centro Internazionale di Studi Deradiani (CISD) valid for one year.

7) Health care: Please note that the Italian public health care will cover students for primary care assistance and emergency room care. In case of a medical emergency, transportation to the hospital will be provided by CISD. Once at the hospital students may be asked to pay a fee for further treatment. For this reason, we recommend that they have their own travel insurance

8) Additional course fee: A payment of $400 is required for any additional course of 3 credits. Students who sign up for the 7 or 8-week program can take any additional class without paying an extra fee; all courses may be audited for free.

9) Tutoring: 20 hours of private tutoring in English, Spanish, French, Latin, Albanian, Ancient and Modern Greek Language and Literature, History, Philosophy, Anthropology, Religion, are also available for an additional payment of $620.

10) Telephone Correspondence: From the telephone at Hotel Il Gabbiano, students can receive incoming calls free of charge and can make any call by paying the cost to the hotel. In order to telephone the United States and other places inside (locally) and outside (internationally) of Italy, the following are also available to you.

A) Phone slips/cards (scheda telefonica); they come in 5 and 10 Euro denominations, 2 hours and 4 hours respectively. From the local telephones students can make calls with a slip/card, sold locally in Otranto.

B) In the United States, it is possible to purchase a quad band cellular phone, which operates all around the world.

C) In Italy, students can purchase phones, starting at 50 Euro, which use TIM or SIM cards. The cards are purchased in increments of 10 Euro, and they are placed directly into the phone. There is NO charge for incoming calls.

D) At the program students can borrow phones at no cost; however, there are limited phones. Usage of these phones is provided on a first come, first served basis. In order to operate the phone, students must purchase a SIM or a TIM card, which can be bought in increments of 10 Euro. The cards are placed directly into the phone. There is NO charge for incoming calls.

E) Last but not least: students can bring their laptop and use Skype in order to call their friends and family for free (if the family and friends are Skype members) or by buying Skype credit online. For more information, please visit www.skype.com.
Register Now!
The application and a $100 non-refundable deposit is due on April 15, 2013. The remaining tuition balance is due the first week of May, 2013. Enrollment is limited. Late Applications may be considered. Please email to check availability. See application form for further details.
Program Sponsors

De Rada Italian Institute, Cambridge, MA & Kingston, RI:
A non-profit educational institute promoting the general diffusion of culture through education and exchange in cooperation with Italy and other European countries.

Contact Information

De Rada Italian Institute
37 Kingston Hill Ct.
Kingston, RI 02881
USA

tel. 857-928-3456
www.derada.com
info@derada.com

Coordinator in Otranto:

Prof. Maria Pina Accoto

Telefono 0836/801952
Fax 0836/804870
Email: